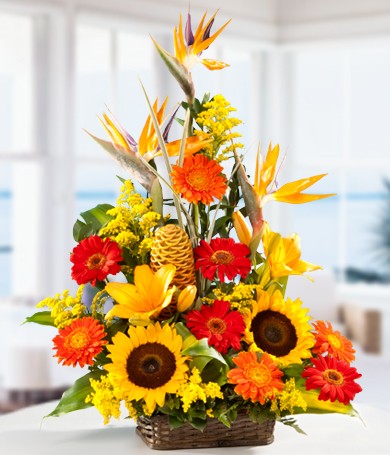 Product Code: 2-10USEN
Product Description
Like sunrise in the tropics, our arrangement will greet you each morning! Gerbera daisies, sunflowers, lilies and birds of paradise dance in cheerful bright shades. Arranged in a basket, the Tropical Dawn is the perfect arrangement for a bedroom, there to cheer you first thing in the morning.
Premium Service
Same-day delivery in most cities
Hand-crafted arrangements by local florists
Customer service available 7 days a week
Multiple payment options

Tropical Dawn
USD$89.99
Verifica tu edad
El producto que intentas agregar tiene una restricción de venta relacionada a tu edad, debes ser mayor de edad para poder comprar este producto.
¿Eres mayor de edad?